Yesterday i went to
Lugang
for outing with the Vegetarian Boys.
Trip to Lugang during summer solstice.
I almost late for the train yesterday morning, however the train stopped for few times along the journey causing our schedule delayed for 40 minutes. We then travelled to Lugang by bus from Changhua Railway Station. So, we arrived late at Lugang although we departed earlier than another group travelled by bus along the way from Taipei.
昨天跟素食家族的人到
鹿港
走走。
夏至不怕汗淋漓 鹿港野遊逞快意
那天還差點遲到趕不上火車,不過火車沿途中也因故停留,害我們誤點近40分鐘。到了彰化火車站, 我們就搭客運到鹿港。最早出發的我們, 竟然是最後抵達的一群。
Arrival at Changhua Railway Station. 彰化火車站。
Yesterday's weather was really hot, we sweat a lot. May be everyone was passionate, ha!
Goods sold in Lugang are pretty cheap too.
那天的天氣真的好熱喔... 也許是帥哥們的熱情啦... 呵!
鹿港的物價也很便宜。
There are many historical old temples in Lugang, most of them are more than 150 years. Pray for my coming qualifying exam and lab work. We went for many historical sites along the way, most of them were not very prominent. So if you were giving a cursory look along the way, you might miss most of them. Slow down the pace, feel the moment, yes, this current moment, and you will appreciate more.
I had few ice-creams, and drank a lot of water.
Almost dehydrated due to the hot sunny weather, i felt better after taking a nap during the journey to Taichung.
鹿港有很多古老寺廟, 多數都有150年以上的歷史。
我們拜了很多廟,希望考試實驗一切順利!一路上也逛了很多的古蹟... 如果走馬看花,真的會錯過那些不起眼的古蹟,放慢腳步,感受當下,欣賞的會更多。
昨天出遊我吃了很多冰棒, 也補充了很多水分...
這樣的艷陽熱天,讓我快中暑發燒,還好去台中的途中睡了一下後沒事。
Below are some highlighted spots we visited. 以下是我們所經過的景點的一些精選。
Lugang Old Street 鹿港老街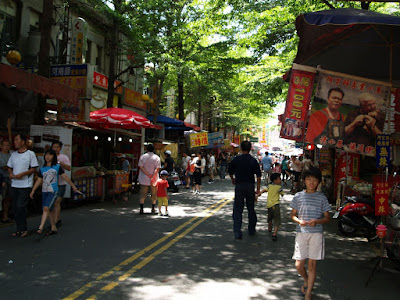 Heaven Queen Temple
天后宮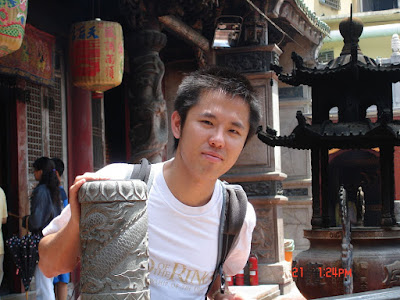 What was i looking at? (Cannot recalled... >.<) Like a silly guy...
忘了我在看什麼,照片看起來像個傻子... >.<
Cheng-huang Temple 城隍廟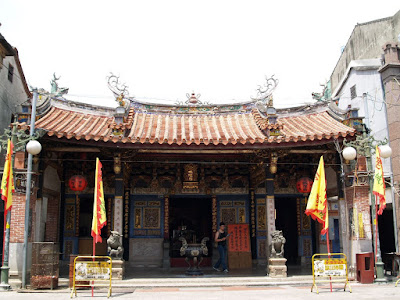 This mural is so funny... 這個看了就想笑,哈!
Pass Gate
隘門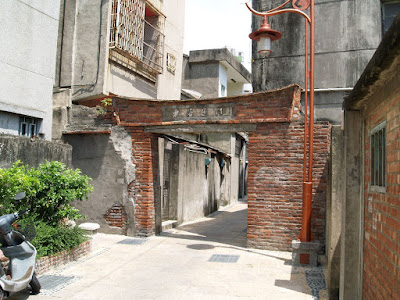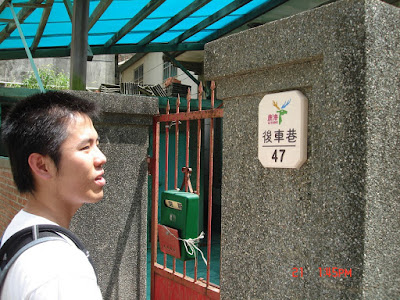 "Nine-turn" Lane
九曲巷
Longshan Temple
龍山寺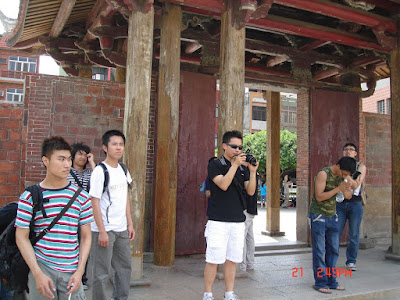 "Breast-touching" Lane
摸乳巷
Half well
半邊井
The weather was hot, we went for some icy dessert.
那麼熱的天氣,坐下來吃點冰的吧。
Mazu Temple 官建媽祖廟
With Chun and Alvin. 大鼎和小裕
More tourist spots can be found
here
. Next time we can come again.
欲知更多景點請點擊
這裡
。下次我們再來。
A big thank you to
Cavalleria
for his clear explanation.
Aaron and Chun, three of us didn't take picture together.
Oh ya, all of us also didn't have a group photo.
Thank you
Marc
and
Alvin
for those beautiful pictures.
謝謝
騎士
的導覽及詳細的解說。
還有... 小天大鼎,我們忘了合照啦...
昨天我們大家好像忘了來個大合照。
謝謝
馬克
和
小裕
拍的美麗照片!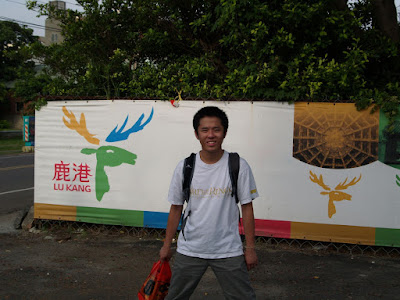 Taken with Chun. 跟大鼎合照。
Taken with Marc, the one and only picture of him. 跟馬克合照,唯一的一張。
Labels: Lugang, Taiwan, Teoh Pak Guan, teopag, Travel, Vacation
posted by teopag @ 5:01 PM, ,


Home Party

Sunday, June 15, 2008
What would you like to cook if your friends want to dine at your place? Hmmm, it's good opportunity for you to sharpen your cooking skill, of course it must be with edible taste although they cannot complaint much (if not delicious) because your are not a professional chef.
如果有朋友要到你那裡來用餐,你會要弄怎樣的宴客菜呢?呃...,那可是你大顯身手的好機會,順便訓練一下你的廚藝,味道方面當然要可以接受得啦,當然他們也不能要求太多(如果不好吃的話),畢竟你也不是一位專業的廚師。
Well, Micheal, Marc, Edwin, Dr. Huang and Ken decided to come to my place on Saturday evening for dinner. Wow, suddenly so "big face" ha.., people are coming to your place for "home party"... Haha... What kind of home party are you thinking? Just dinner gathering only la...
好啦,麥可,馬克,阿溫,小澤和文璋碩星期六要來我這裡吃晚飯。哇,突然間好大的面子喔,有人來宿舍開"轟趴"... 哈哈..,不是你所想的那種性愛轟趴啦,只是晚飯的小聚會。
I was a bit clumsy and rushing in the kitchen. Ken said my cooking sequence of the ingredients is not right, i should cook them sequentially, not put everything at once and wait, if not the texture of the food would lost. I am showing-off my cooking skill in frontof him again, he is a professional chef! Thank you Seok Kooi for the Bak Kut Teh bag. Too bad Marc couldn't make it in the last minute due to some incidents, never mind lo.., you can next time.
在廚房準備的時候, 有點手忙腳亂。文璋就說我煮菜時放材料的順序不對,應該要難熟的先放,不是全部一起放下去讓它"一鍋熟",不然菜餚的口感會不好。我又再文璋面前班門弄斧了。謝謝琡貴的肉骨茶包。可惜馬克臨時銀為某些事情而不刻參與,沒關係啦,下次還有機會。
This is what i cooked: Bak Kut Teh, vegetable curry, and boiled vegetable. The rest are lu-wei brought by Michael and Marc. Initial plan of going to Costco to buy food was not carried out due to time constraint.
肉骨茶,素咖哩, 還有燙青菜是我煮的。其它是麥可和馬克買的滷味。原本事要去好事多買東西回來吃,可惜時間不夠。
After the dinner, they went to my room to eat the fruits bought by Michael. Ken also brought some drinks for all of us. We chatted in the room gossipping and revealing each other internal secrets. Hopefully our laughs were not too loud and disturbing the neighbourhood. It was a happy moment to have gathering with close friends once a while. They left around 1 am, i better sleep early get up early the next day to study.
吃完晚飯,大家就到我的閨房吃麥可帶來的水果。文璋也買了飲料給大家。我們在房間裡談天說地,互挖瘡疤,聊朋友的八卦事。希望我們的笑聲沒有吵到附近的人。一班好朋友有時候聚在一起聊天是件很愉快的事。大家聊到凌晨一點才離開,看來我也要早點休息,明天早點起來唸書了。
Labels: Friends, Taipei, Taiwan, Teoh Pak Guan, teopag
posted by teopag @ 1:06 PM, ,


In this mandarin-speaking land, English language usage is very rare. Sometimes we might observed some obvious mistakes in the English translations.
In order to improve the English proficiency, someone suggested to start a discussion in English once a while.
This time we decided to start by talking on any movie we watched recently, emphasising on the reason why you like the movie,...whether you like the actors, story plots, take home meaningful messages, and etc.
在這個華人居多的土地, 英語的應用少之又少. 有時候到處還會發現一些明顯的英語翻譯錯誤. 為了要改進自己的英文程度, 有人提議要來個以英語為媒介語的討論會. 這次我們就以講述電影為開端, 以一個近期觀看的電影為主, 須說明喜歡該電影的理由, 無論是因為喜歡電影裡的演員, 故事情節, 還是影片所傳達意味深長的信息等等.
We planned to have it at
Bruce's Kitchen
, an Italian restaurant that serve vegetarian food.
However, only two of us turned up today, Aaron and i...
We took a bus from the Xindian City Hall MRT station. After getting down the bus, we walked up the hill heading to the restaurant.
Yes, on this hot weather... and later we realised that we can take another bus which can reach there straighaway.
我們就決定到一家素食西式義大利餐廳,
布佬廚房
討論.
怎麼知道, 來的人就只有我跟裕峰...
我們從新店市公所捷運站做公車, 下車後就步行上山. 是的, 就在這個炎日的天氣...
後來我們才發現其實可以做另一輛公車直達...
This is
Bruce's Kitchen
.
The surrounding is very beautiful, nicely decorated.
這是
布佬廚房
. 周圍的環境清幽, 布置也很漂亮.
This is the washroom a.k.a. toilet. 這是廁所啦...
Hmmm..., i felt like back to home country, eating under a fan. Ha!
The food is nice with reasonable price.
嗯, 感覺好像回到祖國, 在風扇下用餐. 哈!
餐品味到不錯, 且價錢公道.
After that, we decided to go to Bitan for a walk, near to Xindian MRT station.
接著, 我們就到碧潭走走, 就在新店捷運站附近.
Today is the Dragon Boat Festival.
No wonder there were so crowded. Oh ya, the dragon boat competition was going on.
This is the first time i watch a dragon boat. Previously was just reading from books regarding this traditional activity.
Cooperation and teamwork are the essential spirit in this activity.
今天是端午節. 難怪有那麼多的人潮. 喔, 有龍舟賽耶. 這算是我第一次觀看龍舟賽吧, 之前都是在書本上得知有關這個文化的習俗. 划龍舟最重要的是合作與團隊精神.
Dragon Boat 龍舟.
Bitan Suspension Bridge. 碧潭吊橋.
Hey guys, you shouldn't stand on a suspension bridge, it cannot sustain weight as any concrit bridge do. Ciao...
喂, 你們不應該站靠在吊橋上啦, 吊橋不是其他的鋼筋橋, 它能夠成熟的重量有限. 走吧...
After seeing so many ice-cream along the way, finally we can taste it... Ha, so sarcastic!
一路上看到很多不同口味的冰淇淋, 最後我們還是嚐到了... 哈, 好風刺喔!
Labels: Taipei, Taiwan, Teoh Pak Guan, teopag
posted by teopag @ 4:06 PM, ,